Sponsors

Since 2009, TWO MEN AND A TRUCK® locations across the country have donated hundreds of thousands of service hours to their communities. In 2017 alone, franchises donated more than $3 million worth of moving services. With numbers like that, chances are good there is a truck out there right now adding to this impressive number.
The TWO MEN AND A TRUCK® system holds a long tradition of giving back to communities in which employees live and work. Giving back to the community has been a vital part of the TWO MEN AND A TRUCK® system long before it was formalized as a core value. After our founder, Mary Ellen Sheets' first year in business, she donated her profits to 10 different charities. It is this spirit that gives meaning to the company's motto: "Movers Who Care®."
TWO MEN AND A TRUCK® in the St. Louis area has partnered with United Way of Greater St. Louis on our Service 2 Go program delivering over 60,000 kits and counting.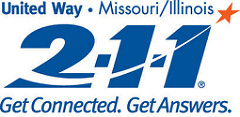 MOVolunteer.org serves as the Give Help resource for United Way 2-1-1. United Way 2-1-1 is here to help – whether you're an individual looking for help for your family, a non-profit seeking better ways to serve your clients, or an organization searching for how to create a better region.
With a database of thousands of non-profits throughout Missouri and Illinois, 2-1-1 is the leader in helping people find resources.
---
For more information about sponsorships please contact Katelind Hosie at Katelind.Hosie@stl.unitedway.org or 314-539-4266.