Age Minimum (with Adult): 13+, Minimum Age:13+
Usher: The Hundred Dresses!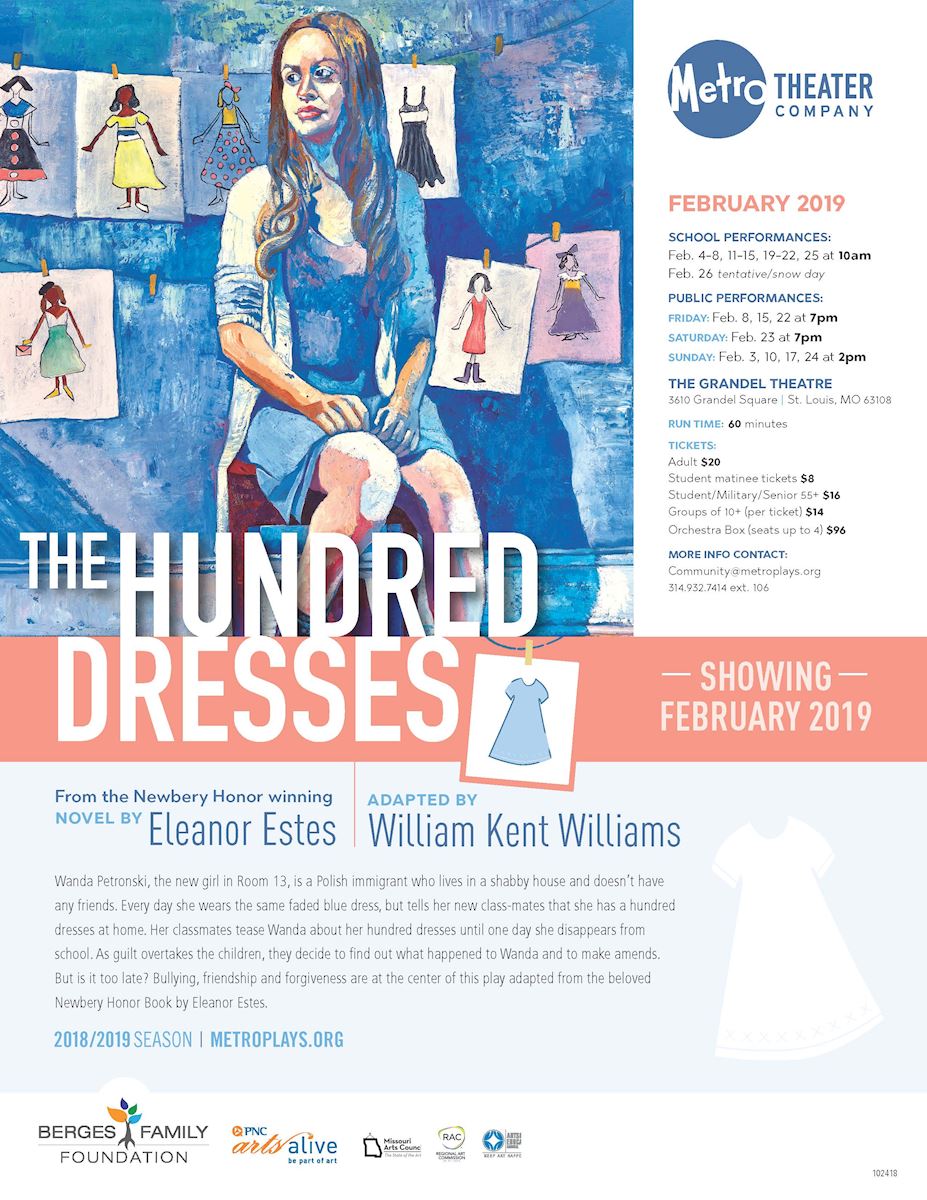 Hello Friends!
We are seeking a number of ushers for each upcoming performance of The Hundred Dresses. After ushering, you may take a seat and see the performance for free! You will see a description of the show, and the dates we are looking for volunteers below. Your duties would include arriving one hour before the performance begins, and:
As an usher for a student weekday performance, you would assist by guiding students safely into the theater from their school buses, through the lobby, and into their seats.

As an usher for a public performance on a weekend evening or a matinee, you would assist with ticket scanning, playbill distribution, and directing people to their specific seats.
We accept solo volunteers as well as groups. Please speak with us if volunteers are 13 or under.
Metro Theater Company presents the third production of our season focusing on girl power and strong female leads: The Hundred Dresses, showing at the Grandel Theater! Please read a bit about the play below:
Wanda Petronski, the new girl in Room 13, is a Polish immigrant who lives in a shabby house and doesn't have any friends. Every day she wears the same faded dress, but tells her new class-mates that she has a hundred dresses at home. Her classmates tease Wanda about her hundred dresses until one day she disappears from school. As guilt overtakes the children, they decide to find out what happened to Wanda and to make amends. But is it too late? Bullying, friendship and forgiveness are at the center of this playblue
adapted from the beloved Newbery Honor Book by Eleanor Estes.
Metro Theater Company's plays are for people of all ages and capacities. They offer weekend public performances but also work with schools to bring students in by bus during selected weekdays to foster learning through this exciting arts approach. Before and after the student shows, Metro Theater Company offers Educator Guides for teachers, and after the performances, the teaching artists visit the schools for further dialogue with students on the important conversations that emerge from the plays.
We'd love ushers for Performances from February. 4th to February 26th!
Dates by Time
10 Am Performances (Weekdays- Volunteers arrive at 9 am)
February 4th.5th.6th.7th.8th
February 11th.12th.13th.14th.15th
February 19th.20th.21st.22nd.25th.26th.
2 pm Performances (Sundays- Volunteers arrive at 1 pm)
February 3rd.10th.17th.24th.
7 pm Performances (Fridays and Saturdays- Volunteers arrive at 6 pm)
February 8th.15th.22nd.23rd.
theater, theatre, arts, show, usher, seating, Grandel, Metro, Grand Center*, The Fox, Powell, accessible
Please wait...
Log in or Register
In order to register for this opportunity you must log in to an existing account or register to create a new account.
Signup with team
This link allows you to participate in this opportunity with a team. When you click on the link you will have the option to:
Choose an existing team you're already a member or captain of, or
Create a new team to sign up.
Signup Questions
Please respond to the following questions in order to signup for this opportunity:
Please wait...
E-mail
©2017 United Way of Greater St. Louis
United Way of Greater St. Louis, 910 N. 11th Street, St. Louis, MO 63101-1018 | Privacy Policy | Terms of Use